LosjiTech's platform is designed to provide quality hospitality service in a front desk-less and contactless world. Our platform will enable your operators to manage units and administer first class guest service from anywhere in the world.
By integrating with your standard PMS, our platform unlocks the ability to search the Knowledge Base (KDB) for any queries and instantly share articles, messages, photos or videos with your guests, and work within our Ticketing System seamlessly, vastly improving communications and the overall guest experience.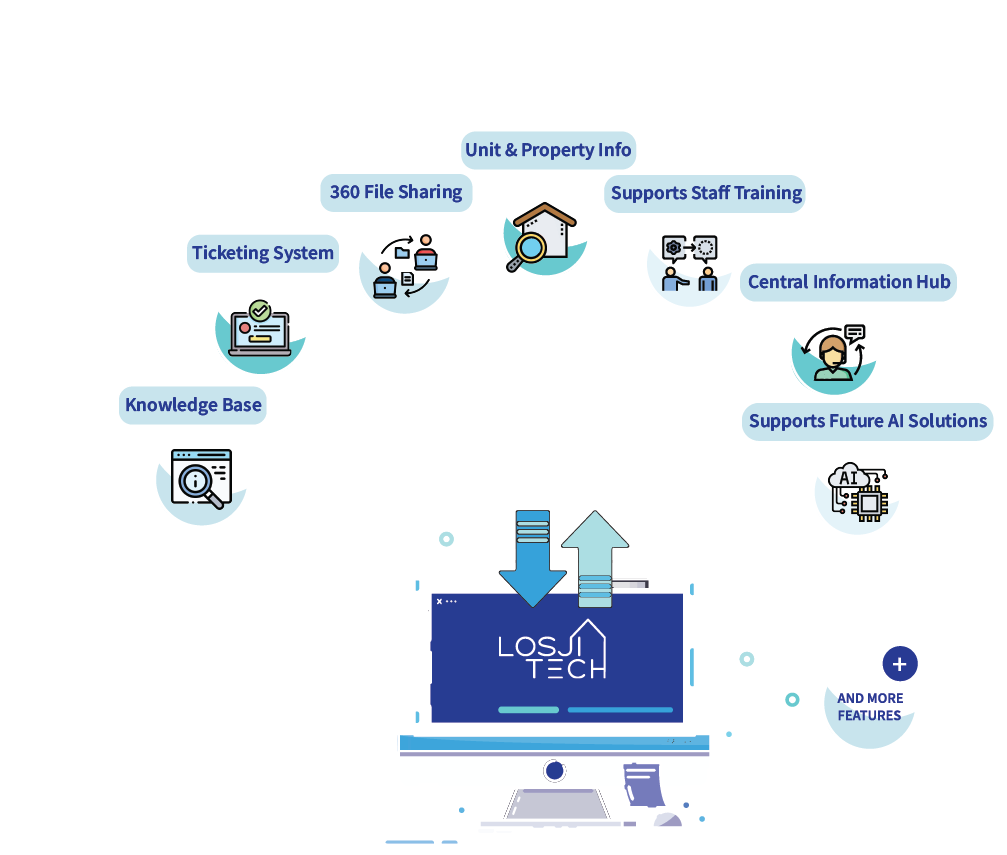 A Hospitality Operations Platform Created by Hospitality Professionals for Hospitality Professionals
Property Management System (PMS)
Your existing Property Management System (PMS) will integrate seamlessly with the LosjiTech platform via an API connection, so you don't have to do any heavy lifting. 
This direct PMS connection allows you to pull up-to-date reservation information, unit configuration, and customer information into the LosjiTech platform, so you and your staff can provide 5-star customer service using information from one central platform.
A central platform where you can create and store all your processes, policies, and information about your units and properties, providing staff a one-stop place to answer any guest questions. Easily link the knowledge base articles to units or various unit groups so you can search and filter articles to find exactly what you need, when you need it. 
Operators that do not have an in-person front desk system can upload information, photos, and videos to the knowledge base, making it seem like your off-site staff are at the location when supporting guests.
With our searchable knowledge base providing information at their fingertips, your staff can gain answers to detailed questions in milliseconds.
Create a ticket and directly integrate the information pulled from your existing PMS with our KDB to allow for a seamless and efficient operation.
By attaching the reservation, guest, and unit information from your PMS directly with our ticketing system, LosjiTech supercharges tickets with complete information, so your agents do not have to search for additional information via other systems – or wait for staff to supply answers. It's tailor-made for hospitality operations that work in a digital environment.
Unlimited Custom Configurations
Create a custom tagging-system that reflects your on-ground operations and companies unit structure. Group units by unit type, building, location, region, or however you need to efficiently mirror your operations.
This helps your managers and off-site employees get a sense of how the business is structured, not only helping them onboard and get used to the organization faster, but also improving the management of individual groups for maintenance, tickets, and guest services.